Support Sustainable Forestry with Our Chicago Area Lumber Yard
Looking for lumber that's sourced and manufactured locally in the northern Illinois and Chicago area? Look no further than Horigan Urban Forest Products! With a focus on sustainability, we provide municipalities, builders, and homeowners with quality lumber.
Why Horigan Urban Forest Products
Keeping trees alive in another form for their second life is the best form of reuse. At Horigan Urban Forest Lumber, we are committed to making a positive environmental impact by "saving the forest one board at a time." This commitment starts with our mission to source lumber from local trees as much as possible, creating a 'farm to table' way of life for businesses.  
With our deep arborist roots, we have decades of experience caring for trees. It was a natural progression for us to find a way to complete the cycle of the tree's life once it is removed, giving it a second life as hard wood lumber for legacy projects that will live on for years. Our woman-owned lumber yard is also dedicated to providing great customer service by supporting clients through the entire process, to not only ensure they get a quality product they love but also to provide a stepping stone toward environmentally sensitive building.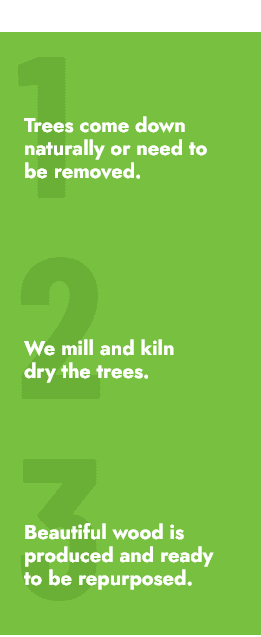 How Urban Trees are
Up-cycled
We are committed to the environment by reducing the number of trees removed from the forest, the amount of fuel consumed for transportation, and the amount of carbon that is released into the atmosphere. Keeping trees alive as hardwood lumber for their second life is the best form of reuse.

7.2 Billion BDFT could be produced from trees removed from urban areas each year. That is enough wood to build 48,000 houses.
They (the white oak slabs) were perfect for what we needed and extremely pleased you had the stock to accommodate our quick lead time! I have attached a few in-process photos and a finished photo.
Really nice people and cool wood products. I wanted some live-edge shelves but I didn't want to buy them from Home Depot or World Market. I was super glad to find this place was right nearby. The owner knew exactly where the perfect board was and they cut it for me for a totally reasonable extra charge. It was about the same price or even slightly cheaper than I would have spent at a big box store. I did do the polyurethane coating myself, but the place also offers more finished-type products if you don't want to do the work. Super neat small business that I will definitely support in the future.
I was really excited to find this place when I did. They have an amazing selection of live edge lumber of all sizes. I found exactly what I was looking for to start my project.